Contest "Promoting social adaptation of ATO participants". Results and prospects
At the end of 2015 the International Renaissance Foundation announced a contest "Promoting social adaptation of ATO participants". It was caused by a challenge to the Ukrainian society, which arose as a result of the armed conflict in Eastern Ukraine – according to figures released by the President of Ukraine 210 thousand people were drafted into the Armed Forces of Ukraine during six waves of mobilization in 2014-2015. The majority of them participated directly in the fighting.
Among the ATO participants there are a large number of activists of the Maidan, the citizens participating in the creation of a new, democratic Ukraine. However, there are dangers for people who have gone through armed conflicts. Among them there are psycho-social problems, the need for assistance in social adaptation to civilian life. Civil society in Ukraine is already helping to overcome these challenges. This contest was aimed at further facilitating the solution of problems of former soldiers – the creation of successful models of social adaptation of the veterans of the anti-terrorist operation with attraction of NGOs and volunteer initiatives.
Priorities of the contest:
Psychological support, legal aid and other advice to ATO participants demobilized from the Armed Forces of Ukraine and other law enforcement agencies;
Promoting the establishment and development of organizations that aim to protect the rights and interests of demobilized ATO soldiers and members of their families.
The winners implemented 15 projects in the amount of 1 702 000 UAH.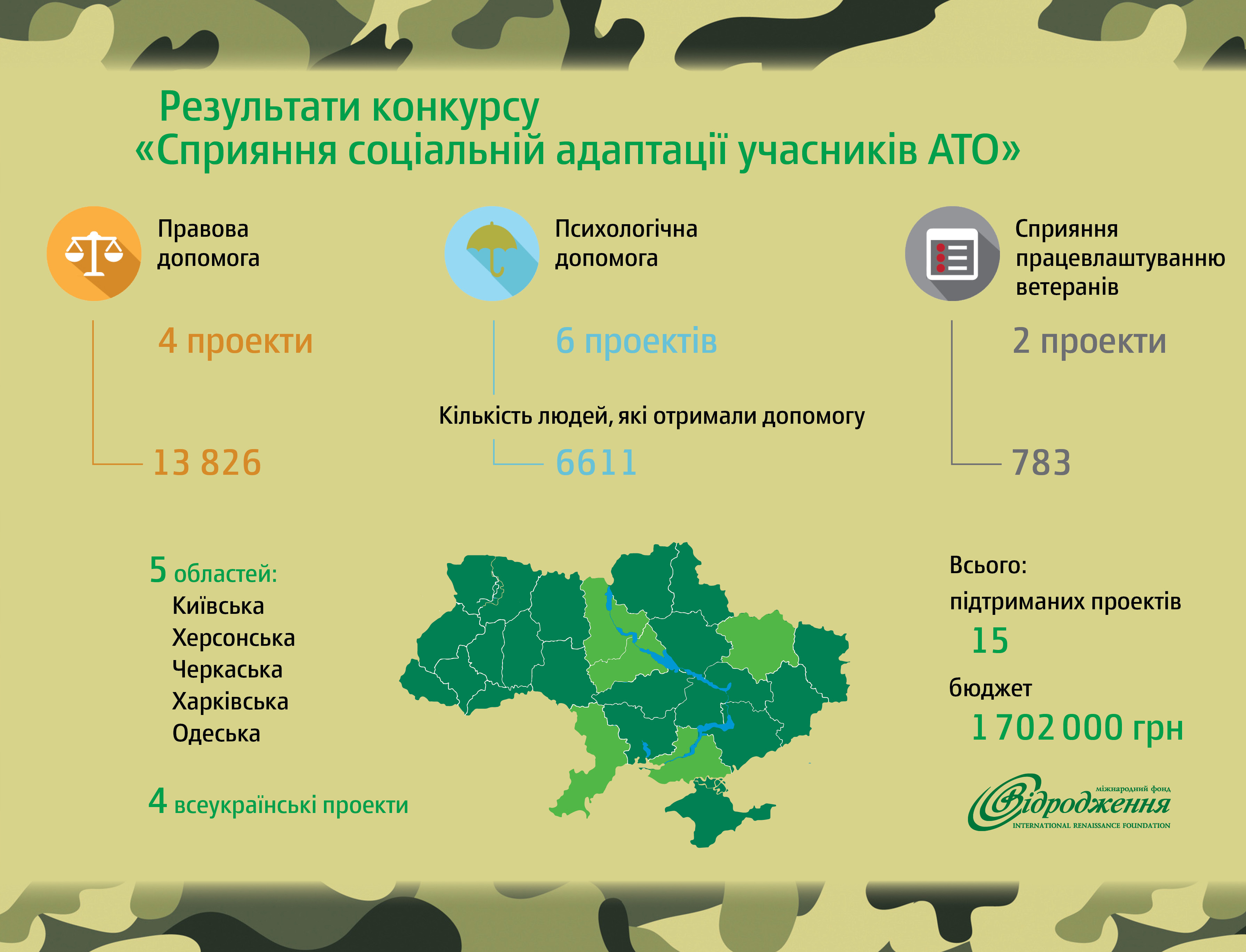 "Due to the competition a certain "pool" of NGOs in the regions, which arose on the basis of voluntary initiatives, were formed or enhanced. These projects were not isolated activities for our NGO partners, which were dependent on grant support. The effect of the supported projects strengthened volunteer work, participation of state structures, co-funding from other donors," explained Stanislav Liachynsky, Director of Program Initiatives "Civic Initiatives of New Ukraine" of the International Renaissance Foundation.
He noted that the Foundation plans to announce the next similar competition in early 2017. "Among its priorities there will be discussed with experts and all stakeholders the development and implementation of adequate public policies in the area of assistance to ATO veterans, in particular, the allocation of necessary budgetary funding for the needs of veterans, advocacy for fair and transparent distribution of these funds. Coordination between the voluntary, NGOs and authorities is required further support. Today our obhective is to create opportunities for the participation of ATO veterans in the development of New Ukraine – in government, private business and civil society".