Government made no decision regarding Roma evicted from Loshchynivka
Over 2 months passed since anti-Roma pogroms were held in Loshchynivka. However, Roma families forcibly evicted from the settlement still have nowhere to live. Today no decision is adopted regarding the settlement of this problem, say human rights activists and once again claim a violation of human rights.
"All persons who have the status of victims approached us with a request to protect their rights and interests, particularly in the housing issues that exist today. No decision is made on the provision of premises. Roma families live in apartments they have to rent. Someone is still faced with challenges in finding housing. Neither Prymorska district state administration nor Village Council took any action on resolving this issue. The indifference of officials, their inaction gives rise to the violation", said the Center lawyer Volodymyr Boshtan.
Regarding the criminal component of the case, now the investigation is ongoing, criminal proceedings concerning the massacres are opened.
"Today, the Roma families were named suspects. We hope that the investigation will be working with them", said the head of the Roma Human Rights Centre, lawyer, Chairman of the Coalition of Roma NGOs of Ukraine Volodymyr Kondur.
The Director of Roma Program Initiative of International Renaissance Foundation Olga Zhmurko also commented on idle power on her Facebook page:
"We talked to some of them last week – people are in despair… Cases will take more than one month time, but families with children, in fact, have nowhere to live here and now. Looks like that in our country it is okay to deprive people of property, not to be responsible for it under the law and forget about these people. And if you still think that this could happen only with local Roma, you are deeply mistaken. In fact, anyone under certain circumstances may become a victim of the "people's wrath", and the authorities will just shamefully say that there are no social housing reserve funds and will pay in the best case 500 hryvnia one-time assistance to children. And it is a very significant case," said Olga Zhmurko.
Roma are being evicted from Loshchynivka accompanied by the police. August 2016. Photo: gazeta.ru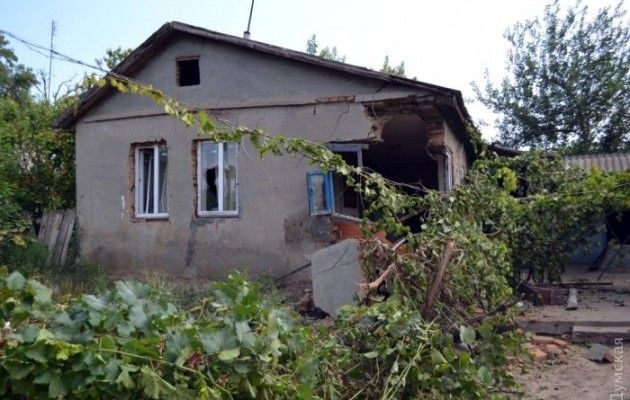 Loshchynivka. Homes of the Roma after the pogroms. Photo by UNIAN, odessamedia.net
"Given the fact that the power of the Governor has resigned, we could face substantial problems. I think that those people, who are directly responsible for assistance in such situations, simply do not respond to our appeals. The case will go to the European Court. At this stage I do not exclude that Roma will come to the district administration and will be have to live there just on the ground . Of course, we, the defenders will follow them," said Volodymyr Kondur.