"Bogdan is free, we have defended him!" - Unfairly convicted Roma guy released from custody
Photo: Roman Lykhachov's Facebook.
Roman Lykhachov (in the center) together with Bogdan, his mother, friend and colleague.
On February 22, 2016 an underage Roma IDP was released in Kharkiv. The lawyer, Chairman of Chuhuiv human rights group Roman Lykhachov published the relevant post on his FB page. Lawyers and human rights defenders, who since January of this year have been keeping on monitoring the case of the unfairly imprisoned guy, can celebrate the first considerable win in court.
Legal Space wrote that in January of 2016 in Dvurechansky district, a 15-year-old Roma boy Bogdan got into a fight with his fellow villager, who had hurt his brother. For the victim suffered minor injuries, closed craniocerebral trauma, concussion of a brain Dvurechansky district court sentenced the minor to 2 years of imprisonment.
To Lykhachov's opinion, the sentence was passed with numerous procedure violations. The lawyer pointed to several violations in relation to the young man, noting that he is the IDP, and almost does not speak Ukrainian. That is, in this case, the person is vulnerable on different grounds and suffers from double discrimination.
The details of the case were discussed during round table with Roma issues, which was held on 14 January in Kharkiv, Office of the UN High Commissioner for Refugees, with the support of International Renaissance Foundation. The dialogue participants – civil society activists, representatives of Roma public organizations, international organizations, foundations and missions, state authorities and local self-government, human rights defenders elaborated on this example of the violation of the rights of young Roma, which contains signs of discrimination on ethnic grounds.

To protect the guy experts joined, led by Roman Lykhachov. In a month first significant results were achieved.

Shortly after the court hearings Roman Lykhachov shared the joyous news on his Facebook page:
"There is nothing more precious than the tears of gratitude of the boy's mother ... there is nothing dearer than his childish joy. It's worth living and fighting for the sake of such moments. Everyone who was worried about the Roma IDP, who stood up for his brother, when he was beaten by a drunken crowd and with the "help" of judges and prosecutors was sentenced to16 years behind bars: Bogdan is free, we have defended him! The power of civil society is in its unity. Thanks to organizations that were not afraid of defending the boy's rights together with lawyers of Chuhuiv human rights group and NGO "Chachimo". Thanks to Mykola and Natalia Burlutskiy, Maksym Kornienko, the Roma intern of Chuhuiv human rights group Spartak (Serhiy) Kanus, Bogdan's mother Louisa, Kharkiv human rights group and to all people who are involved in this case... Now we will have to work hard in Dvurechansky court of Kharkiv region..."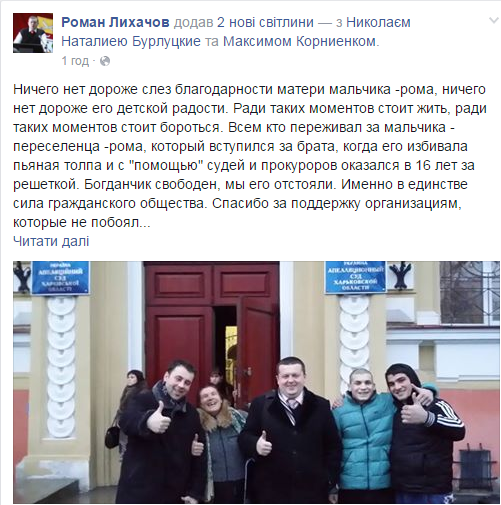 The head of NGO "Chachimo" Mykola Burlutskiy also commented on his Facebook page:
"We are much more mighty together! Thanks to everyone who are not indifferent to the fate of the young Roma, who was illegally sentenced to 2 years of imprisonment. Due to the active participation of CSOs (ChHRG, the Coalition of Roma Public Organizations of Ukraine, "Center", Chachimo", "Romen", CF "Chirikli") and the professional work of lawyers and human rights defenders (Roman Lykhachov, Maksym Kornienko), the boy was released from custody and transported home in Dvurechansky district of Kharkiv region..."
Mykola Burlutskiy (in the center) immediately after Bogdan's release (second from right) from custody. Photo: Mykola Burlutskiy's Facebook.